Friday, February 28, 2020


Volume 97 No. 13
O

ne of the major developments in the history of education centers around the idea of the transformation of the school in American life and culture.
The idea of the school serving the public good was ingrained in nineteenth-century educational theory and I practice. As the population of the United States grew and as industry began to develop, governments and local communities began to develop school systems to serve the needs of an emergent industrial economy. The role of the school focused on serving the worker-based needs of this new society.
Most schools had technical and clerical programs and only a few students would follow the track toward the academic diploma, which would allow them to pursue further study in college. In most cases, boys were funneled into the technical track and girls into the clerical. Education followed the gender-based roles endorsed by the new industrial patriarchal society.
The transformation of the school from an industrial training ground to a more academic and enlightened institution took many years to accomplish. Throughout the 20th Century, the process of organizing schools around gender-based roles and future work-force needs continues. When the change in attitudes took hold during the 1950s and 1960s this process began to shift and education took on a more humanist and egalitarian philosophy. Now schools served other needs, such as emotional and intellectual development rather than work-focused. Pathways.
Gender challenging started to change and class channeling changed as well. The academic path was open to more students and the growth of college attendance and enrollments dramatically increased after World War Iil; in essence, the democratization of education began to take hold and also began to take on the role of the force for social justice and equality.
Today we know that our schools do all they can to support and nurture the intellectual, social and personal growth of our students. Our mission know focused on developing our young people into thinking, caring and skilled individuals capable of working both within a collaborative setting and within the mandates of their own individual inclinations. This transformation does and continues to meet the needs of our society by preparing our students to move into college and then into the modern professional workforce. However, by supporting a humanist and intellectual foundation in our students, they are prepared for the complex interactions in the global and technological world.
"A Trip of Knowledge, Connection, and Exploration"

Garden School International Trip to Senegal
by Garden students Javid A., Joelle G., Fanta D., Aditiya K., Uday C., Justin F., Dylan R., and Cory G.
Senegal is a "country of hospitality" according to
Javid A. (12th Grade)
. Garden School students led by teachers Gabriel Gomis, Jacquelyn Renner, Flance Dervishi, and Michelle Ferreria

embarked on a week-long February break journey to Dakar, Senegal

.
Aditiya K. (11th Grade)
remarked that while he "had [his] reservations about this trip at first," he got "to know the country more . . . While Europe had its differences with the United States, Senegal showed a clear contrast to the United States and showed us how much privilege we actually [have]."
Joelle G. (12th Grade)
found Senegal to be a country "filled with culture, warmness (both from the people and the weather), and utter beauty.
Uday C. (11th Grade)
enjoyed his time with the trip's guide Cy and Sedu and he explained that "Everyone we encountered was very friendly and giving."
Joelle
enjoyed "having conversations with the locals. In New York, it is typical for people to keep to themselves, yell at tourists while walking through Times Square, and give strange looks when people ask for directions to the nearest train station. In Senegal, we were all taken aback by the friendliness we received from every person we encountered. When we visited the University of Dakar many students came up to us and engaged in conversations with us on topics ranging from what they learned to them recommending some books to read on our flight back home." Students met Senegalese diplomat Tulinabo Salama Mushingi, and his team "was eye-opening" in the way they opened up the conversation.
Joelle
said, "It sparked my interest in international relations and for a possible career path for me in the future." After visiting a local school,
Justin F. (11th Grade)
noticed that students and teachers "greeted us, joked around with us, and treated us like their own. We felt as if we were in a home away from home. Some of the moments that really stuck with me would be visiting the school and the orphanage. When we saw the school it really opened our eyes."
Cory G. (12th Grade)
spoke personally that the trip was "eye-opening and crucial for me and my growth, as an African American, I feel as if it is vital to see where a preponderance of my people originated from or came from throughout the  slave trade."
Fanta D. (12th Grade)
also made the trip personal by reminding us that she grew up in Ivory Coast, which like Senegal, is an African-francophone country. She said, "One of the most memorable things on the trip for me was going to the slave house. The slave house is right where my history lies. Seeing the conditions my ancestors lived in sent shivers down my spine. To hear how much they were worth as people was hard to hear but also standing right in front of the door of "never return" and realizing how much it represents its name made it an even more unreal experience." Finally,
Dylan R. (12th Grade)
wrapped up his experience by remarking that "I'm very grateful that I was able to go on this trip because it was easily the best one week experience of my life (besides the traveling). [A] big shoutout to Mr. Gomis for putting his all into this trip and working extremely hard every day to make sure it was as perfect as it could possibly be." Students in the next few weeks will give presentations to other middle and upper school students at Garden to unpack their experiences.
- Celebrating the Career of -


DR. RICHARD MAROTTA

1991-2020
Terrace on the Park
Friday, April 24, 2020
6:30 PM - 11:30 PM

JOINS US FOR

Cocktails & Open Bar
Hors d'oeuvres & Stations
Mobile Silent Auction
DJ & Dancing
A MESSAGE FROM JEAN KINN, GALA CHAIR:

The 2020 Garden Gala, "Toast the Twenties," will take place on Friday, April 24th at Terrace on the Park in Flushing Meadows Park. We are excited to share our theme for this Gala, "The Twenties," and yes, you may dress in 1920's attire if you wish! So, let's get creative and dress to impress!

The 2020 Gala will celebrate the career of Dr. Richard Marotta, who has spent the last almost 30 years making Garden School the formidable educational institution it is today.

Please

contact the Gala Committee

if you have any questions or suggestions. Our committee is open to new members so consider joining us. Our meetings take place on Tuesday evenings at 6PM in the Library.

Please come celebrate with us and make this Gala the best party ever.




TICKETS:

Gala Tickets are on sale

online

now. Tickets are priced at $145 per person or $1,450 for a Table of Ten. Can't attend? Donate a ticket for a teacher. Young Alumni tickets (Class of 2009-2019) are priced at $95 and Senior Class tickets are $75.

RSVP by April 10!





AUCTION DONATIONS:

The Gala is collecting donations for the Silent Auction. Suggested donations range from Sports Tickets, Theater Tickets, Museum Memberships, Gym Memberships, Wine and Spirits, Men's and Women's accessories and jewelry, restaurant gift certificates, gift certificates to children's activities, gift certificates to classes for children and adults (cooking, pottery, yoga, spin, knitting and crocheting, glass blowing, wall climbing). Use your imagination and think outside the box.

Our auction donations deadline is April 3.





JOURNAL & CLASS ADS:

Purchase a personal advertisement in the Journal Book to congratulate Dr. Marotta or take out an ad to advertise your business! Order

online

now. In addition, Every year each class pools together funds to create an ad to be published in the Gala Journal Book. This year as we celebrate Dr. Marotta's career, we hope that every class will participate. Need help or suggestions creating the ad? Design help is available through the Gala Committee. If you haven't seen last year's Journal Book, you can

view an online version

of the 2019 Journal. Our journal ads submission deadline is March 27.



See you at the 2020 Garden Gala honoring Dr. Richard Marotta on Friday, April 24 at Terrace on the Park!



This week, while learning about the letter "Jj" we read

The Jacket I Wear in the Snow

by Shirley Neitzel, pictures by Nancy Winslow Parker. This prompted a discussion about the type of clothing we would wear in different seasons. We began with winter and clothes to keep us warm, safe, and healthy! A picture of a kite for the letter Kk led to more talk of weather, wind, sunshine, light, and warmth. We opened our classroom door to use our senses to discover, to hear and feel the wind! Just what the kite needs to make it move. Wind is moving air; and, air is all around us. So what will we wear for the next season, and what will we feel? Our nursery students can't wait to spend more time outdoors and feel the sun. Families can also talk about using senses to discover the world. And, as the saying goes, "Go fly a kite!"
GARDEN YEARBOOK SALE



_____


Buy your yearbook today, have memories forever.
It's not too late. Order your copy now.
PRE-K: What Keeps Teeth Healthy?

by

Eileen Reyes
Early Childhood Lead Teacher
You would know if you came exploring in the science center this week in the Pre-K room. Discussions on habits that help keep teeth strong and what people need to do to take care of their teeth were had each day before students explored healthy teeth in the science center each day.  Together we brainstormed foods that were made from milk and crunchy fruits and vegetables as choices that should be made to keep teeth strong. Proper brushing and flossing were reenacted and videos on visiting a dentist were watched.  Many children shared their experiences with their own dental visits with their classmates. We made smiles out of apple slices for a cooking activity.  

After a lesson on how toothpaste, mouth rinse, and some tap water contain fluoride, which helps keep teeth strong and how foods and beverages with lots of sugar, such as soft drinks can harm teeth, a science experiment was done using two hard-boiled eggs. One egg was placed in the mouth rise and another in soda. They
were left there overnight. The next day the eggs were removed and examined. The students were surprised to see how different each egg looked. This is a fun activity that can be done at home as well.
The Berenstain Bears Visit the Dentist
by Stan and Jan Berenstain,
The Tooth Book
by Dr. Seuss,
Just Going to the Dentist
by Mercer Mayer, and
Snacks for Healthy Teeth
by Mari Schuh are some of the books we read to support this unit of study.
KINDERGARTEN: Exploring the Arctic Circle

by

Lauren Yandow
Kindergarten Teacher
This week we began our unit on the Arctic circle! This unit incorporates geography, cultural studies, and science exploration. Students were introduced to this topic through a KWL chart which we used to discuss what we think we may already know as well as what we want to learn about the Arctic. Students were exposed to using this type of tool when learning about a new topic and learned how to organize their ideas and questions which facilitated interesting discussions about this area of the Earth.

We used our globe to locate the Arctic circle and discussed what countries we already recognized from past geography lessons such as Canada and Russia as well as another land we were unfamiliar with. We also discussed whether or not the Arctic is close to the equator and what that might mean about the weather there. In the "K" column of our chart, we wrote that we know the arctic is cold and that there is snow because it is far from the equator. We also wrote that animals, like polar bears, live there. Some questions we wrote in our "W" column of our KWL charts were: are there people in the Arctic? What other animals live in the arctic besides polar bears? What kind of food do animals/people eat? Next week, students will learn about the different countries in the Arctic Circle as well as the group of people who inhabit the land. This month we have also been learning all about Dental Health. We explored questions such as: What happens when you eat too much junk food? What is a cavity? What are some tools that the dentist uses? What other animals have teeth like us? We read different stories including The Berenstain Bears Visit the Dentist by Stan Berenstain and The Tooth Book by Dr. Seuss to help support our understanding of the importance of maintaining a healthy smile!

The students also engaged in a cooking activity this week to create their own sparkling white mouth out of apples, peanut butter, and marshmallows. To extend our learning about cavities, we carried out a science experiment using hard-boiled eggs, mouth wash, and coca-cola. We placed one egg in the mouth wash and one egg in the coke and waited to see what would happen to each egg. Which one would maintain its original form and which one would get brown and rotten? Students discovered that like a tooth that's had too much exposure to sugar, the egg in the coke changed color, got rotten, and even produced a funny smell. This was a fun and visual way for the students to understand how certain foods can negatively affect our teeth.

First, Second, and Third Graders Learn Food and Drink Words in Mandarin Class

by

Kelly Yang
World Languages Department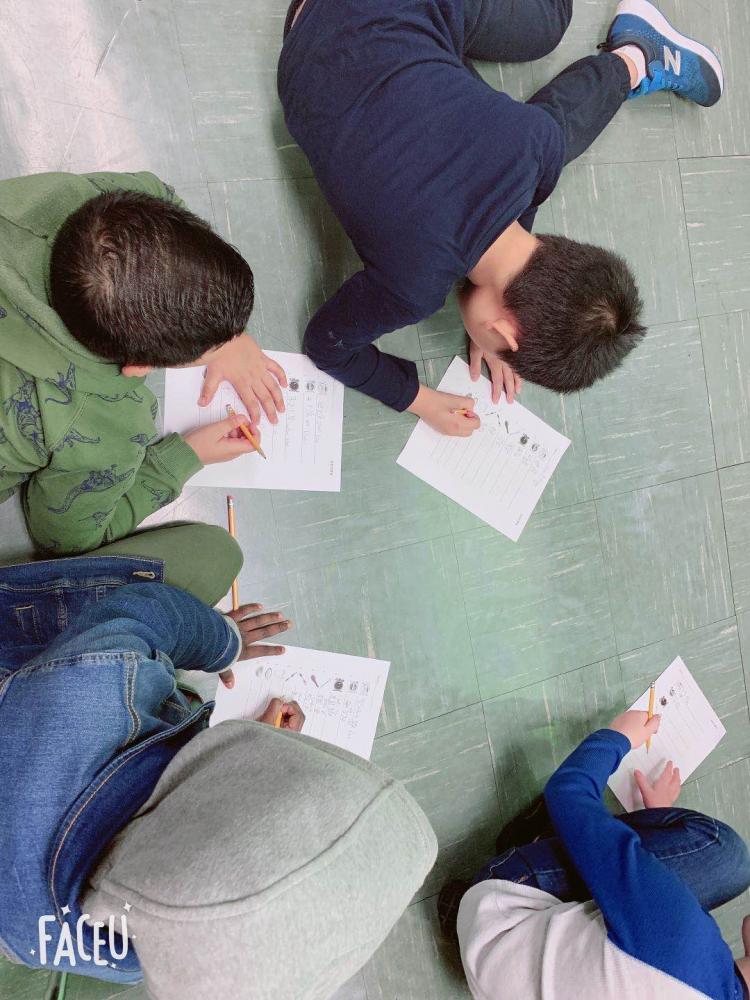 These several weeks the first through third-grade students are learning multiple types of foods and drinks and use this vocabulary in expressions of identification, description, volition, and general communication. The first and second-grade students should be able to ask and answer questions about their likes and dislikes of food and drinks. The third-grade students should also be able to express when they are hungry or thirsty. By
the end of the unit, our young students will gain knowledge and understand the cultural differences between food and drink preferences.
FOURTH GRADE: The Southwest Region of the United States

by

Jacquelyn Renner
History Teacher
The Fourth Grade is continuing their journey across the five regions of the United States in the Southwest region. The class was amazed to find that only four states cover a large amount of land. As with each area, they will explore the geography, climate, resources, history, and present day. The students have built maps and sang songs to learn the states and capitals. After recalling the five themes of geography from one of our first lessons, small groups worked together to complete a graphic organizer with examples of location, place, region, movement, and human interaction in the Southwest. A highlight of the week was participating in a gallery walk to discover how plants and animals adapt to survive in the Grand Canyon. Next week the students will write about how people in the Southwest interact with their environment to live in a hot, dry climate.
FIFTH GRADE: Crown or Colony?

by

Jacquelyn Renner
History Teacher

The Fifth Grade has reached the end of the Revolutionary War. The students particularly enjoyed an online simulation, Mission US: Crown or Colony?,

where they were able to better understand the viewpoints of both the Patriots and the Loyalists leading up to the Revolution. They were even able to be spectators at the Boston Massacre. Now they have moved on to the challenges facing the new nation. Discussion groups were posed with questions about the Articles Of Confederation, such as the weaknesses and possible changes. This activity became more challenging as they moved along since each groups' responses needed to be different. At the final question, discussion became intense as they tried to find an answer that had not been given by a different group. Next up will be the Constitution.
SIXTH GRADE: Brains or Brawn?

by Jacquelyn Renner
History Teacher
Sixth Graders used brains and brawn to decide where they would live: in a place that valued learning and individual expression or one that valued military strength and discipline. Students read about Athens and Sparta and listed the pros and cons of both city-states. Using that information, students created a brochure to encourage people to move to their preferred city-state. The students have also created maps of Ancient Greece and discussed how geography influenced the development of individual city-states and the interaction between them. They have now moved on to the Persian and Peloponnesian Wars with a reader's theater and a battle strategies map activity.
SEVENTH AND EIGHTH GRADE: Badminton Tournament

by

Flance Dervishi
Lead P.E. Teacher
We are in the final stages of finalizing our Badminton unit in Physical Education class with an awesome tournament that led to a very exciting championship game in Singles and Doubles. We will continue one more week of Doubles but the students could pick their own partners this time around. A little history: BADMINTON was invented long ago a form of sport played in ancient Greece and Egypt, The game was called POONA in India during the 18th Century, and British Army Officers stationed there took the Indian version back to England in the and named it Badminton. The game is pretty simple: two players hit a feathered shuttlecock (Birdie) back and forth with tiny rackets. Everyone seems to get very competitive over badminton in class. Next week we are starting a new unit, Ultimate Frisbee. The unit is completely different to the students, it's very fast paced and teamwork is extremely important.
NINTH AND TENTH GRADES: Math Matters

by

Sarah Blakeley
Math Teacher



Math has the disreputation for being something that kids do not really need to know. Sure. Say some. Everyone needs to know their basic arithmetic (1, 2, 3s) but why do we need to know how to simplify polynomials or understand the difference between parallel lines and parallelograms? Shouldn't we just abolish all of that? Well. I am bristling at the fact that anyone would even imagine such a thing but I must tell you that in our high school math curriculum at Garden I am certainly more interested in my kids' ability to solve a problem more than anything else. And guess what? Solving problems is an essential skill regardless if it is math-related or home economics. At the end of the day, I am building learners who can tackle whatever I throw at them because let's face it that is a simulacrum of the real world that I can represent in my classroom.
Senior Independent Art Project
  

by

Chris Zelles
Art Teacher

Vivi in Twelfth Grade is creating fantast

ic artwork this quarter in Art Theory.

  

Over the past month, she has been creating Anime that is inspired by some of her favorite movies and T.V. shows.

This is the first time she has worked with acrylic paint, which is hard to believe considering the level of sophistication that she mixes and applies her colors. It has been remarkable to see how she has grown as an artist over the past six months, and I cannot wait to see what she does in the future. Here is a look at some of her recent works, and a project that is currently underway.
| | | | | | | | | |
| --- | --- | --- | --- | --- | --- | --- | --- | --- |
| |   | |   | |   | |   | |
Sent to: _t.e.s.t_@example.com
Mailing List:

Garden School
33-16 79th Street
Jackson Heights, NY 11372
United States

"Cultivating Success in Every Child"

Garden School is a Nursery-Grade 12, NYSAIS-accredited independent school in Jackson Heights, Queens.
"Cultivating Success in Every Child"



Update Your Info

or

Unsubscribe from List